Sexually Transmitted Infections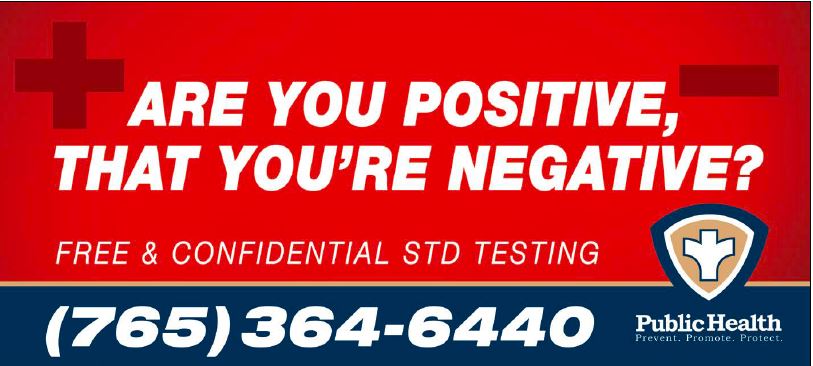 FREE & CONFIDENTIAL TESTING
If you have recently had unprotected sex, have known signs or symptoms, or feel like you would like to know your sexual health status, then the best thing you can do for yourself and your partner is to be tested! Luckily, the Montgomery County Health Department can help! We provide FREE screenings for HIV, Hepatitis C, Chlamydia, and Gonorrhea! In addition to all screenings being FREE, they are also 100% confidential and anonymous. FREE treatment is available for those that test positive for either Chlamydia or Gonorrhea. Also, follow up screenings or referrals are provided if needed.
To book an appointment with the Health Nurse please click HERE
SCREENING PROCEDURES
The screening process is simple! For females being screened for Chlamydia or Gonorrhea, a vaginal swab is self-administered. For males being screened for Chlamydia or Gonorrhea, a urine sample is collected. Those who receive anal sex are encouraged to collect a rectal swab as Gonorrhea is site specific; therefore, it may be negative is one area but positive in another. A small blood sample is collected for anyone being screened for HIV or Hepatitis C.
SCREENING HISTORY
Montgomery County Health Department has been screening for Chlamydia and Gonorrhea since September, 2017. We have also been screening for HIV and Hepatitis C in partnership with ASPIRE since May, 2017. Remember that all screenings are completely FREE, confidential, and anonymous.
WALK-IN and APPOINTMENTS
If you think you have a Sexually Transmitted Infection (STI), the Montgomery County Health Department has partnered with the Indiana State Department of Health to provide free Chlamydia and Gonorrhea screenings. Likewise, we have also partnered with ASPIRE to provide free HIV and Hepatitis C screenings. Screenings for Chlamydia and Gonorrhea are provided for those 14 and older. Screenings for HIV are provided to those 13 and older, and Hepatitis C screenings are provided to those 18 and older. ASPIRE is available to refer patients to the necessary resources and professionals for those who need it. Most resources and professionals are located in Lafayette and Indianapolis.
MCHD offers both walk-ins and appointments for the following:
Chlamydia/Gonorrhea Screenings
Monday-Friday
8:00 am to 4:00 pm
HIV/Hepatitis C Screenings provided by ASPIRE
Tuesday Mornings
9:00 am to 12:00 pm
For more information about HIV, Hepatitis C, Chlamydia, and Gonorrhea screenings contact the Montgomery County Health Department!
Phone: 765-364-6440
Email: mchdnurse@montgomerycounty.in.gov
CLICK HERE for Sexual Health Information and Tips
CLICK HERE for more Sexual Health Information and Tips